Recent Project: House Democratic Caucus New Website
While contracting for the Tree House Agency last fall, I am very happy to have architected, project managed, and lead the development of the New House Democratic Website (http://dems.gov)
From: http://www.dems.gov/press/house-democratic-caucus-launches-new-website
The site features what Democrats are saying each day, by issue and about major legislation. For the first time, visitors will be able to easily find quotes from Members on the topics and legislation they care about most. The site also features major legislation passed by Democrats and summaries of upcoming bills. In addition, the public can find House Democrats' official websites, YouTube channels, and Facebook pages using an interactive directory.
The new site allows the caucus to:
Aggregate content from congressional members (video, text, feeds, and other forms of media)

Share content with the public and reporters in a way that it easy to navigate

Provide multiple views for visitors to browse and search content by facets of interest
Of course we built it in Drupal for the public facing website because of its ability to present content to visitors in a variety of ways; with all the social networking tools of today's websites and Drupal on the administrative end was the clear choice when it came to meeting the administrative and security needs of the Caucus.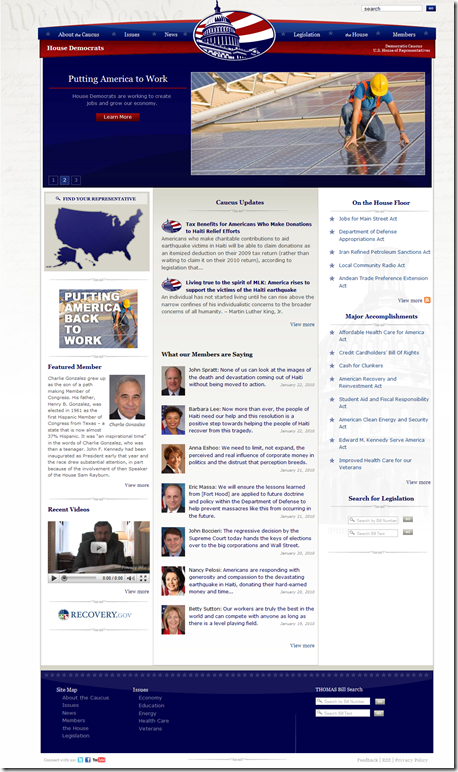 Share or Comment via Twitter