Posting to Drupal 6 with Windows Live Writer
Screencast Summary
We"€™ll begin from within Windows Live Writer.
Make sure you have already selected the Weblog account for your Drupal site and for your desired content type. In Windows Live Writer, each content type which Drupal makes available through the Blog API appears as a different Weblog account.
Within the Live Writer editor, begin by entering the title of your post in the section labeled, "€œEnter Post Title Here"€.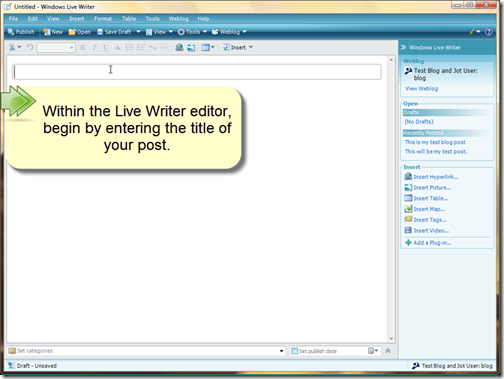 Then use the rest of the text area to enter your body text.
To add a picture to your post click, "€œInsert Picture"€ on the Windows Live Writer sidebar at the right side of the application.
You have the option to select an image from your computer or insert a picture from the web.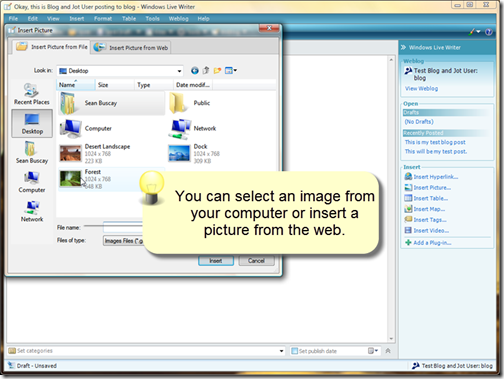 In this example, I"€™ll browse to a photo on my desktop and select it for insert.
Et viola, nous avons une image .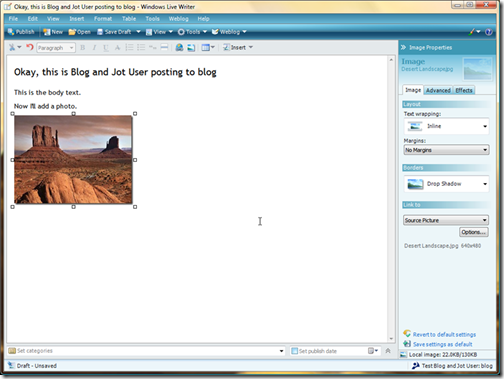 Now let"€™s select some terms for our post.
Click the "€œSet categories"€ bar at the bottom of the Live Writer application window.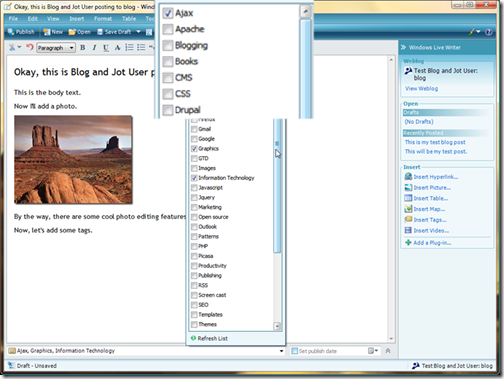 Note: Drupal provides Live Writer with a list of terms available for blog posts.
If you do not see a list of terms available for your content type then check the following:
Confirm your taxonomy settings at /admin/content/taxonomy. You"€™ll want to make sure your content type is listed as one of the content types to categorize using your vocabulary.
Verify your Blog API module has this patch: http://drupal.org/node/224006
After selecting your terms, you can click back to the editor, and the category selection box will close.
Now let"€™s post to our blog. Click the "€œPublish"€ button on the Live Writer Menu Bar. Again, make sure you are publishing to the correct Weblog account.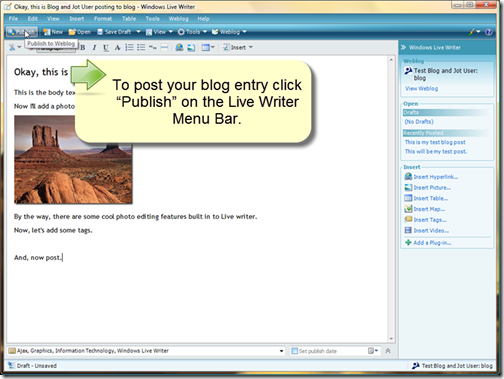 After posting to Drupal, Windows Live Writer opens a browser window to view the post on the Drupal site.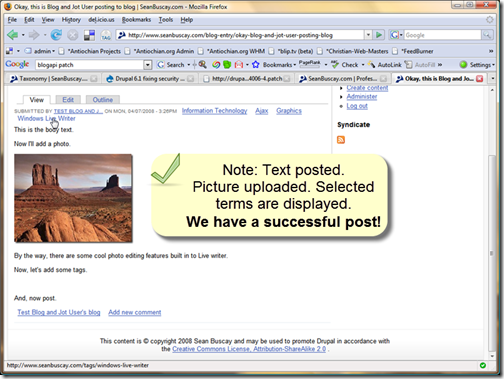 Verify:
Your body text posted.
Your picture uploaded.
Your selected terms are displayed.
We have a successful post!
Share or Comment via Twitter